A 6-WEEK STRENGTH + CONDITIONING PROGRAM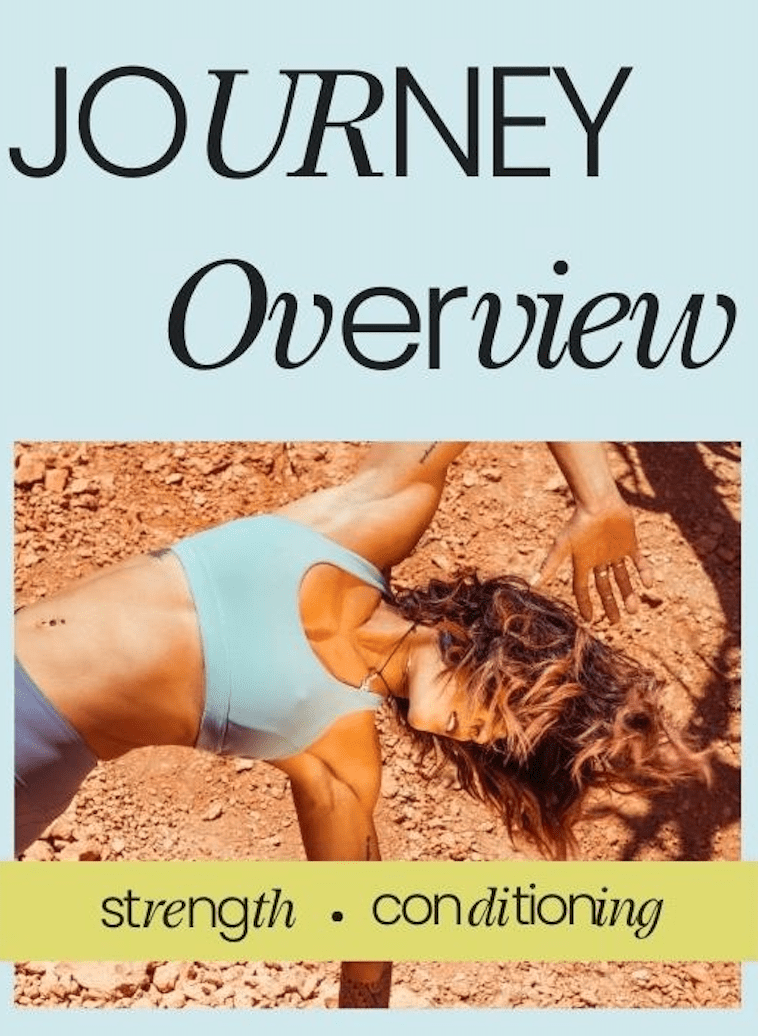 Welcome to JOURNEY, a unique 6 week fitness program that integrates physical exercise with mindful practices to help you connect with your inner self and navigate life's many journeys with greater ease and clarity.
Our program is designed to take you on a transformative journey that will help you discover your inner strength and resilience, while also improving your physical health and wellbeing. We believe that fitness is not just about achieving a certain body type or level of athleticism, but rather about embracing the journey of self-discovery and personal growth that comes with it.
Through a combination of conditioning, strength training, and mobility exercises, we'll help you build a strong, healthy body that is capable of taking on any challenge life throws your way. But we don't stop there - we also incorporate mindfulness practices such as journaling, meditation, and breathing exercises to help you reduce stress, improve focus, and cultivate greater awareness of your thoughts and emotions.
Hannah and Paulo will guide you through each step of your journey, providing personalized attention and support to help you stay motivated and on track. But the real power of JOURNEY lies in our community - a group of like-minded individuals who are all on their own unique journeys, but who come together to support and inspire one another along the way.
Whether you're facing a major life transition, struggling with stress or anxiety, or simply looking for a way to improve your physical and mental health, JOURNEY is here to help you embrace the journey of life with open arms. Join us today and start your journey to a healthier, happier you!

MedBall
Jump Rope
Monster Bands
Kettlebells
Dumbbells
Plyo Box
Day 1 | Upper Body Strength
Day 2 | Bodyweight + Flow
Day 3 | Lower Body Strength
Day 4 | Full Body Metabolic Conditioning
Day 5 | Bonus of Your Choice
Day 6 | Rest
Day 7 | Mindful Practice
4 workouts/wk + bonus of choice [5 workouts per week] for 6 weeks
24 30-45 minute workouts
Level 1: Beginner/someone getting back into moving their body
Level 2: Intermediate to Advanced/ has been in fitness for a while and  ready to be challenged
Breathwork is an integral part of JOURNEY. In addition, our weekly themes are:
Week 1 | Gratitude
Week 2 | Forgiveness
Week 3 | Resilience
Week 4 | Mindful Eating
Week 5 | Joyfulness + Play
Week 6 | Mindful Tech
JOURNEY comes complete with a full nutrition guide for the 6 weeks, including grocery lists and recipes. 
Make sure you are working on not only your fitness from the outside with your workouts, but from the inside with nutritious AND delicious meals and snacks!

TRY A FREE WORKOUT FROM JOURNEY HERE!
Ready to begin your JOURNEY? Click below to start on your own path toward physical AND mental fitness!